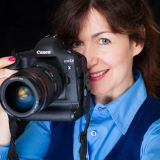 Hi - I'm Annmarie Meredith and I've been taking photos for as long as I can remember. In 2011 I made the leap from working in a day job to working for myself and I set up Annmarie Meredith Photography.
Whether it's family portraits, corporate or wedding photography, I love working with people to capture images that tell their story and show them in their best light. I appreciate that more often than not, it can be a nerve wrecking experience for most people to have their photo taken, so by coaching and directing where necessary, there is nothing better than seeing someone relax and allow my camera to capture the beauty that's in everyone.
For me, the most satisfying outcome ever is a happy client, so check out what they have to say
here.
If you despise having your photo taken, I'd love to hear from you and change that experience.
Do get in touch
and let's see what we can create together!
For information on photography sessions and Gift Vouchers please contact Annmarie through the
Contact
form.
Annmarie Meredith Photography
London, UK